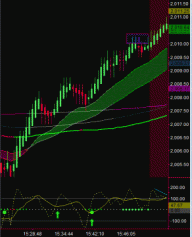 Good Evening Traders!
I hope you all are prepared for the Halloween holiday and that the rise into the close did not scare you.
I had a great question from a trader in the Shark Den. He asked, "Could you go over your last trade on Friday, I passed on it because of the Shark Line and Opening Range. Great Trade!!"
Remember what I said around 9:15 am EST. Slow and quiet equals bullish. Understand that slow scary choppy markets tend to mess with oscillating indicators inside the opening range. The drawn out choppy delay allows many oscillating indicators to angle down before a push higher. This is sometimes called a Short Cover Squeeze or a Piker's Run. Many larger traders were home with families early on Halloween. This is just my opinion. The tendency is for lower volume markets to rise into the close to catch a lot of unsuspecting traders off guard. You can see this happen prior to 3 day weekends or other holidays.  The rise into the close was also subject to the earlier news. Remember Chicago PMI at 9.45 am EST was much better than expected. The initial move was down which allows for price to materialize into the close with the intended news report. I hope that helps.
To Successful Trading,
Brian Rehler
TraderShark.com